The Ontario Geothermal Association (OGA) is a not-for-profit organization representing geothermal energy system designers, drillers, installers, equipment manufacturers and distributors to advance Ontario's geothermal heating and cooling industry.  The OGA strives to be a bridge between consumers, government and industry professionals while acting as a voice to increase awareness for the importance of working towards the use of a greener, cleaner and self-sustainable energy source.
The OGA was established in June of 2009 and on April 16, 2013 they were proud to announce that OGA and HRAI entered into a formal agreement making OGA an affiliated association of HRAI.
HRAI is a national association that represents more than 1,300 heating, ventilation, air conditioning and refrigeration (HVACR) manufacturers, wholesalers and contractors, and provides Canadians with the tools and information necessary to ensure their total indoor environment comfort.
HRAI offers leadership and training programs for the advancement of its members' business and technical excellence, promotes a code of ethics for consumer protection and safety, and provides consumers with useful information and a database of members in good standing to support an informed buying process. Through its membership requirements and consumer feedback processes, HRAI is committed to a safe, responsible and fair industry that is environmentally-responsible and sustainable.
Board of Directors
The Ontario Geothermal Association's Board of Directors work to advance Ontario's geothermal heating and cooling industry through:
Public information and communication strategies

Lobbying all levels of government for specific programs and initiatives

Offering or facilitating access to industry specific training
- System design
- Post-secondary and apprenticeship
- Competence based training programs in all areas of geothermal installation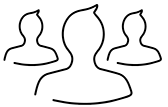 Stan Reitsma
(President)
Geosource Energy
Jeff Hunter
(Vice-President)
Redmond/Williams
Gabriela Grigoriu, M. Arch
(Treasurer and Secretary and Honorary Founding Member)
Next Project
Jim Bolger
(Director)
Waterloo Energy Products
Stan Marco
(Director)
GeoSmart Energy
Rose Anderson
(Director)
Buchanan and Hall
Ron J. Wright
(Director)
Enertech Global
Michael David
(Director)
Gorski, Plener and Associates Inc.
Chad Hayter
(Director)
The Hayter Group
Grant Blackmore
(Director)
Eden Energy Equipment
John Bosman
(Director)
Bostech Mechanical
Companies working in the geothermal industry must be a member of the Heating, Refrigeration and Air Conditioning Institute (HRAI) in order to join the Ontario Geothermal Association (OGA).  Visit HRAI for membership details and application forms.
HRAI/OGA membership benefits:
Advocacy
Lobbying on behalf of the geothermal sector on regulatory and legislative issues to government and other stakeholders in Ontario, and ultimately, on a national level.
Training
Responding to training and certification needs of the geothermal sector.
Marketing
Collaborating on marketing and PR initiatives to educate Canadians about geothermal technology
Industry Statistics
Developing statistical data on the geothermal industry including product shipments and installations on a national and regional basis to achieve a better understanding of the geothermal market.
Industry News
HRAI publishes a bi-weekly digital newsletter (E-Insight) and a bi-annual printed magazine (Insight)
To Become an OGA Member:
1. Register as an HRAI member: customized annual fee(already an HRAI member? Skip this step!)
2. Add OGA as your affiliated chapter: $100/ annual fee
3. Renew your HRAI membership annually, selecting OGA as your affiliated chapter: HRAI annual fee + OGA annual fee
Register Today to Become an OGA Member:
Phone: 1-800-267-2231
E-mail: sales@hrai.ca
Find a local geothermal contractor
Should you have specific questions regarding the installation, cost or performance of a geothermal system, please visit
http://www.hrai.ca/contractor-locator for a listing of geothermal contractors near you.